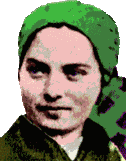 Chronology


"The grotto was my heaven"
Grotto of Massabielle as it appeared in 1858
The mountain air was cold and wet. Still two months of winter lay ahead. Food was scarce, and firewood all gone for this young family. Survival of the family was the first concern. Remaining together in their love the second. Each member, young and old, had their part to play in this survival game. Illness plagued the firstborn, who in body was so weak, and yet in mind so strong.
Their village with a thousand–year history was one of the larger towns at the foot of the Pyrenees. But, the time had come to really place Lourdes on the map. Not just for Lourdes' 4,000 inhabitants, nor France, but for the entire world. No particular feature or product of this pocket of Bigorre was worthy of great prominence. It was merely a stopping point for mountaineers or travellers in search of the waters of places like Barèges, Cauterets, or Bagnères–de–Bigorre. In fact the culture of the region was so separated from surrounding areas geographically and historically that they even spoke their own language.
Lourdes had seen its share of hardship in recent years. Droughts had killed the wheat harvest, and the industrial revolution threatened the mills. A cholera epidemic swept through the area, killing many and almost claiming the life of Bernadette. Lourdes' past glories could be traced in history to 778, when Charlemagne lay siege on the Moorish castle. Legend held that the Moor leader converted at the feet of the Black Virgin of Puy, and was baptized with the name Lorus, from which the town received its name. But by the nineteenth century, it had only dreams of past glories. Photography had been invented in France less than 15 years earlier, and it is almost certain that none of the photographs you see of young Bernadette Soubirous on these pages would never have been taken ... that is unless the "Lady" came for a visit!
January 20th, 1858, Bernadette returned to live in the misery and squalor of the Cachot, and attended a convent–run school where she was put in a "pauper's class" with no fees to pay, in the company of 7– year–olds. How courageous was Bernadette!

Three weeks later, a dark and somber sky hung over the icy dawn of Thursday February 11th. Outside the Cachot there was mist and drizzling rain. Inside, the Soubirous family shivered from the cold and dampness. The last of the firewood had gone, the last bundle having been sold the night before to buy food. Bernadette pleaded with her mother to allow her to go and fetch some. Afraid that Bernadette might suffer an asthma attack from the bad weather, her mother was reluctant. Finally, she gave in to her daughter's constant pleading. And so it was that Bernadette, her sister Toinette and a friend Jeanne Abadie, nick–named Balourn, made their way to the river Gave. They crossed the meadow of the Savy mill (the present day Rosary Square).

"We are not thieves," said Bernadette as they crossed this private property and left untouched the many fallen branches that lay strewn there. Further on they came to the "pig–sty", a rocky recess where the river currents washed up driftwood and all sorts of rubbish. This place had often been a treasure trove for these poor children who sold what they found to the local rag market in Lourdes. Even that very day they were to find and to sell enough to buy 20 sous worth of bread, and this in a place used by Samson, the local swineherd, as a watering hole for pigs.

Heaven has a wondrous way of working its miracles. What symbolism exists in the circumstances surrounding the Lourdes apparitions. For many, it took great faith to look beyond simple appearances to realize the rich imagery and message behind the events that were soon to occur. Here now is how Bernadette herself described the events which left such an indelible impression on her heart. She wrote of the events several times in almost identical terms. This first account, written on May 28th, 1861, was at the time when Bernadette was just learning to write:

"The first time I went to the Grotto, was Thursday, 11th February, 1858. I went to gather firewood with two other little girls (Toinette, her sister, and Jeanne Abadie, nicknamed Balourn). When we got to the mill (of Savy), I asked the other two if they would like to see where the water of the mill joins the Gave. They said 'Yes.' From there we followed the canal. When we arrived there (at the foot of the rock of Massabielle) we found ourselves before a grotto. As they could go no further, my two companions prepared to cross the water lying before their path; so I found myself alone on the other side. They crossed the water; they started to cry. I asked them why and they told me that the water was cold. I begged them to help me throw a few rocks into the water so that I could cross without taking my stockings off. They replied that I could do as they had done. Then I went a bit further to see if I could cross without taking my stockings off, but without success."
"I came back towards the grotto and started taking off my stockings. I had hardly taken off the first stocking when I heard a sound like a gust of wind. Then I turned my head towards the meadow. I saw the trees quite still: I went on taking off my stockings. I heard the same sound again. As I raised my head to look at the grotto, I saw a Lady dressed in white, wearing a white dress, a blue girdle and a yellow rose on each foot, the same color as the chain of her rosary; the beads of the rosary were white."
"The Lady made a sign for me to approach; but I was seized with fear, and I did not dare, thinking that I was faced with an illusion. I rubbed my eyes, but in vain. I looked again, and I could still see the same Lady. Then I put my hand into my pocket, and took my rosary. I wanted to make the sign of the cross, but in vain; I could not raise my hand to my forehead, it kept on dropping. Then a violent impression took hold of me more strongly, but I did not go."
"The Lady took the rosary that she held in her hands and she made the sign of the cross. Then I commenced not to be afraid. I took my rosary again; I was able to make the sign of the cross; from that moment I felt perfectly undisturbed in mind. I knelt down and said my rosary, seeing this Lady always before my eyes. The Vision slipped the beads of her rosary between her fingers, but she did not move her lips. When I had said my rosary the Lady made a sign for me to approach, but I did not dare. I stayed in the same place. Then, all of a sudden, she disappeared.
I started to remove the other stocking to cross the shallow water near the grotto so as to join my companions. And we went away. As we returned, I asked my companions if they had seen anything. 'No,'; they replied. 'And what about you? Did you see anything?' 'Oh, no, if you have seen nothing, neither have I.' "
"I thought I had been mistaken. But as we went, all the way, they kept asking me what I had seen. I did not want to tell them. Seeing that they kept on asking I decided to tell them, on condition that they would tell nobody. They promised not to tell. They said that I must never go there again, nor would they, thinking that it was someone who would harm us. I said no. As soon as they arrived home they hastened to say that I had seen a Lady dressed in white. That was the first time."
Taken from "Ecrits de Saint Bernadette"
Bernadette's relationship with the Lady begins on a gesture of poverty. As Jesus came to the world in a humble manger, so did Mary come to Massabielle, a muddy cavelike formation filled with trash that washed up from the river, dressed in pure white! Bernadette was soon to discover in one of the purest dialogues ever exchanged between a human being and the Mother of God, that there is a poverty worse than destitution, hunger, cold, ignorance, social degradation, illness, death, and so on. This poverty is that of human sin. In her own physical poverty, she is enriched with this knowledge and grace. She discovers that true riches consist in the mercy of God, who offers Himself to sinners and transforms them ... if they consent, to His will. Bernadette soon consents, at first to a simple request ... to meet the lady again for fifteen days ... and begins her lifelong mission.

"The second time was the following Sunday. I went back because I felt myself interiorly impelled. My mother had forbidden me to go. After High Mass, the two other girls and myself went to ask my mother again. She did not want to let us go, she said that she was afraid that I should fall in the water; she was afraid that I would not be back for Vespers. I promised that I would. Then she gave me permission to go."

"I went to the Parish Church to get a little bottle of holy water, to throw over the Vision, if I were to see her at the grotto. When we arrived, we all took our rosaries and we knelt down to say them. I had hardly finished the first decade when I saw the same Lady. Then I started to throw holy water in her direction, and at the same time I said that if she came from God she was to stay, but if not, she must go. She started to smile, and bowed; and the more I sprinkled her with holy water, the more she smiled and bowed her head and the more I saw her make signs. Then I was seized with fright and I hurried to sprinkle her with holy water until the bottle was empty. Then I went on saying my rosary. When I had finished it she disappeared and we came back to Vespers. This was the second time."

"The third time was the following Thursday. The Lady only spoke to me the third time. I went to the grotto with a few grown–ups, who advised me to take paper and ink, and to ask her, if she had anything to say to me, to have the goodness to put it on paper. I said these words to the Lady. She smiled and said that it was not necessary for her to write what she had to say to me, but asked if I would do her the favour of coming for a fortnight. I told her that I would. She told me also that she did not promise to make me happy in this world, but in the next."
Continue to the next page for the "Fortnight" !



Chronology of Apparitions at Lourdes


Photographs of St. Bernadette and Lourdes