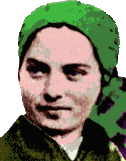 CatholicPilgrims.com recommends:
Pilgrim Reservations











Chronology
Recommended Reading

Bernadette Soubirous is the saint of Lourdes, France. Visionary and messenger of the Immaculate Conception, she told us the very words of the Virgin Mary, spoken in the native Basque tongue of Southern France and Northern Spain. She spoke words teaching of the merits of prayer, penance, poverty and church. In the first and most widely recognized Marian apparition of modern times, a personal message was delivered also to Bernadette—She would not find happiness in this world, but only in the next.

She was to die twenty–one years later in 1879 after a prolonged and painful illness. She remained hidden in a convent about 300 miles from home, a refuge from the interrogations and the pilgrims that never ceased seeking her. At thirty–five, her strong–willed manner gave way to her frail body, and she finally entered into her eternal happiness.

While she took with her the knowledge of certain secrets the Virgin gave her, one secret remained hidden in our presence. The most spectacular of all the incorruptibles, Bernadette's miraculously preserved body remained buried in a damp grave for thirty years until the cause for beatification was taken up. To this day, the body of Bernadette is a profound source of inspiration and of mystery surrounding the ways of the Lord. The face of Bernadette is one of surreal beauty, and will remain for us always the face that gazed into the eyes of the Mother of God.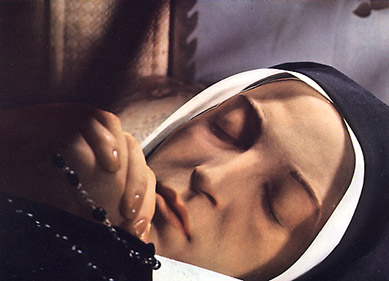 Hold mouse over image to see Bernadette at the time of her death, April 16, 1879 (Animation may take a minute to download)

Please click the icon below to view many high quality photos of Lourdes and Bernadette:
The body of St. Bernadette